Build - Protect - Live
Financial Planning Process

DISCOVERY
Identify your goals, dreams, and concerns as well as your core belief system.
Evaluate where you are relative to those goals.
DATA GATHERING
Collect data on your current financial situtation using a series of questions to create a complete picture of your financial profile.
Discuss concerns and potential strategies.
ANALYSIS
Develop your personalized financial plan
Brainstorm and research suitable investments and strategies
Prepare illlustrations to review
PRESENT & IMPLEMENT
Present personalized recommendations to help manage where you want to be.
Weigh pros and cons of each options.
Implement strategies and investments.
ONGOING MONITORING
Establish periodic schedule to review your finanical plan and goals as well as make appropriate adjustments.
Ensure you remain on track to pursue your financial dreams.
Consider changes in goals, risk toleratnce level and market trends.
Your goals remain the centerpiece of our recommendations and strategies.
t anytime, no matter where you are.
We make your life easier by providing comprehensive services for staying organized, updated and prepared.





PERSONAL FINANCIAL WEBSITE
Your Personal Financial Website serves as a secure, up-to-date window into your entire financial world - accessible to you at anytime from anywhere with an internet connection or mobile device. Unlike online banking, online shopping or bill pay, our system is non-transactional.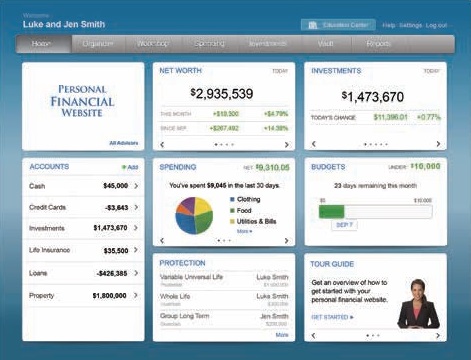 ACCOUNTS UPDATED DAILY
All your financial account balances updated daily and accessible all in one view
ALERTS
Automatically notify you of significant changes in your accounts
UPDATED NET WORTH
Your net worth is calculated and updated daily
REPORTS
Reflect your current account values and market changes
iDoc
Secure storage facility for your financial documents and more
AWARDS MANAGER
Access all your important travel awards in one place